It's that time of year…our annual Valentine Gift Guide. We have hand selected some favorites to make this year's Valentine's Day gift giving easy. Enjoy our traditional Free Shipping for orders over $200 and surprise him or her with the perfect gift this Valentine's Day.

The Government Mule was the workhorse of the US Military for almost 150 years.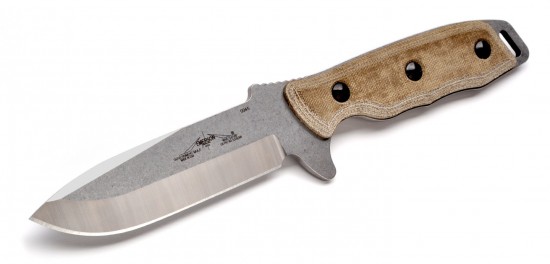 The Government Mule moved the army. All the supplies, food, ammunition, weapons, and artillery were dependent on the strength, endurance and dependability of this animal to get from one battlefield to the next. In fact our ability to wage war rode on the back of a government mule. The "Emerson Government Mule Knife" has many of those same attributes. It is strong, rugged and dependable.
VALENTINE'S DAY LIMITED EDITION PINK KNIVES!

This is the Emerson Mini Commander – a smaller and more pocket friendly Commander. It has the "wave shaped feature" and is just as formidable as its full sized father. Now for the month of February, available in all pink. Quantities are limited, and only available while supplies last. Don't miss out on this Pink Mini Commander, it is sure to become a collector's item. Also available in other models, including the All Pink Bulldog.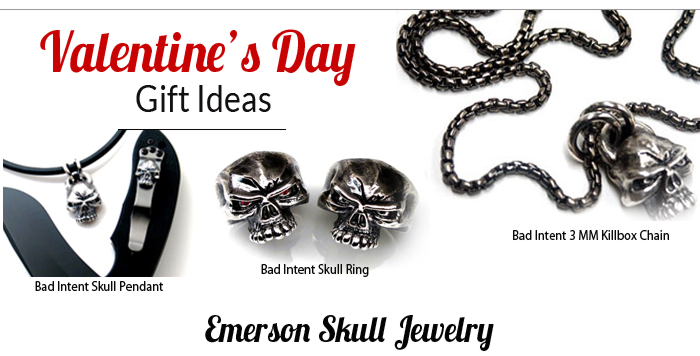 From Solid Sterling Silver, to a variety of other hard materials, Hand finished in Vintage Gunmetal and Tritvial set in eyes, Emerson Knives has the perfect jewelry to accent any lifestyle.  Featured here is the Bad Intent Skull Pendant, Bad Intent Skull Ring, and the Bad Intent 3 MM Killbox Chain. Or click the Shop Now button and check out the entire collection. Handmade in the USA.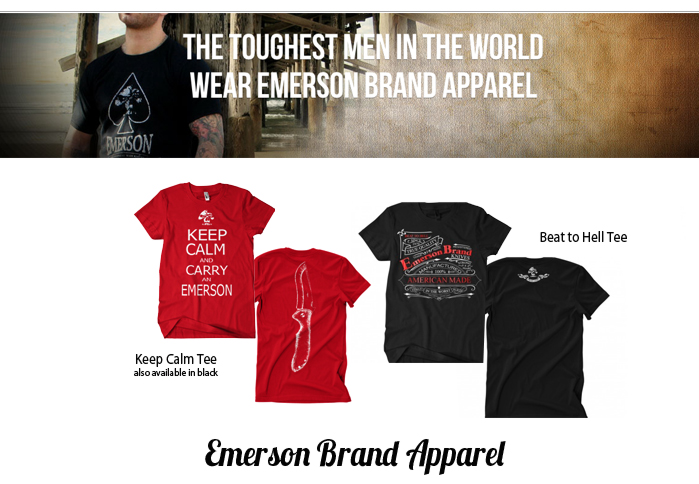 The name Emerson has come to represent many things to many people. To some it is a success story. To some it is inspiration.  To some it represents loyalty, hard work and truth.  And yes, to some it represents American exceptionalism in its truest form.  And to some, Emerson just represents knives.
But, a knife you can carry into the darkest night, the most dangerous and the worst of all places' knowing that it will be there when you ever need to call upon it. If you own an Emerson knife I hope it's beat to hell. That to me is the supreme compliment. Whatever your case may be, this is the vintage style shirt that proclaims the name loud and proud. Featured here are the Keep Calm Tee, available in Red and Black, and one of our favorites, the Beat to Hell T, which features a red foil accent embedded into the design.  Or Shop our entire Apparel collection and find the perfect item.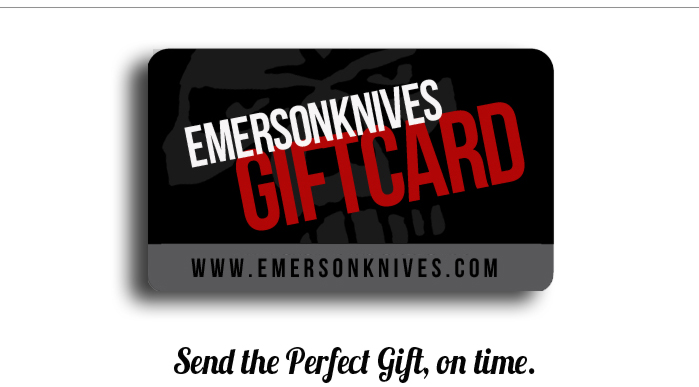 Send the perfect gift – now select your own value gift certificate and have it digitally emailed to the recipient of your choice. It's never been easier, simply enter the amount of the card, enter the email address, and you're done! The PERFECT Valentine…for him or her!