The Super Karambit:

Ancient Indonesian Utility Knife Used for Self Protection
and Self Defense
The Super Karambit SF and BT are both in stock and ready to ship. For a very limited time, all sales over $200 will get you free shipping, and the Super Karambit will get you triple reward points towards future purchases. 
Introducing the ultimate 21st Century Folding Super Karambit Knife from Emerson Knives. This Folding Super Karambit brings you the first in the next generation of folding knives. With the advantage of the Emerson "wave shaped feature", this is one of the finest personal defense weapons ever developed. Others will follow, but you will own the first and the best from the worlds leader in "Real Deal" Hard Use Knives. The Emerson Super Karambit carries an overall length of 8.0 inches.
The Super Karambit Ready To Ship – in stock and in your hands!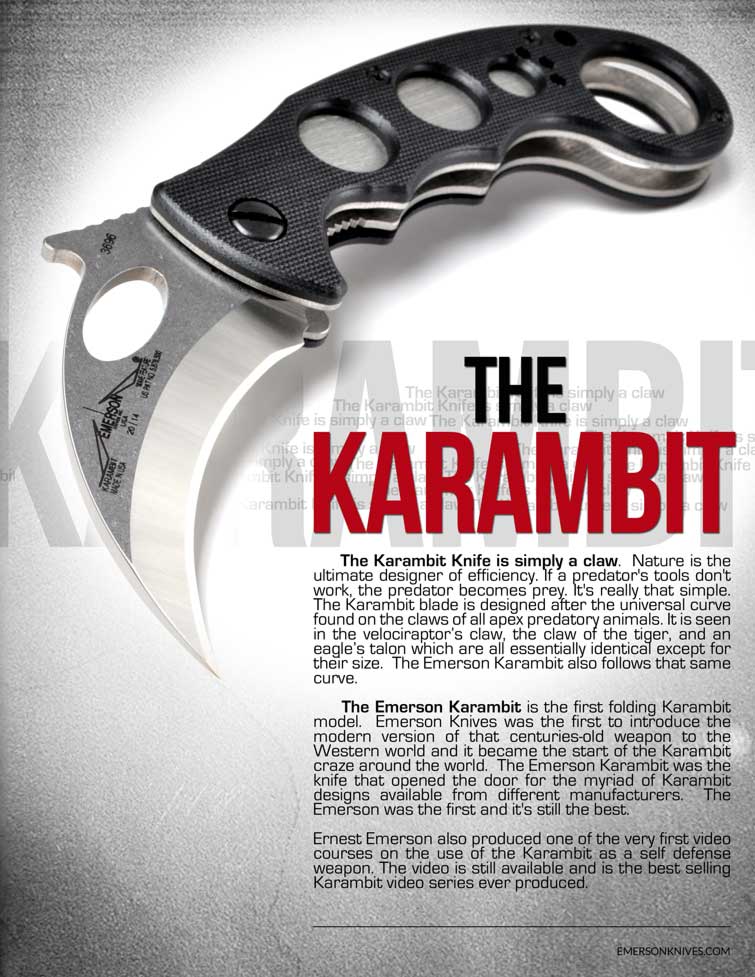 *Image from the Emerson Legacy eBook available by free download. Get your copy for free here.
"With the new 2013 re-design, this is hands down the BEST folding self defence knife I've ever handled. With a functionality that is truly scary ( a wave-able three inch steel claw rock solid in the hand in either forward or reverse grip) , this knife has an intimidation factor that is hard to match in a folding knife. I've had the new re-enforced tip super karambit with the stand offs for a little over a month now, and i am very impressed with the redesign." – M Ryan. Read more reviews here.
SPECS:
–Super Karambit carries an overall length of 8.0 inches.
-Ergonomic Handle Design fits Forward and Reverse Grip perfectly
-Can be carried for Reverse or Forward grip deployment
-Total Ambidextrous opening
-The Emerson Karambit features our Patented "wave shaped opening feature" or Remote Pocket Opener. In an emergency or injury situation the knife can be opened with one hand as it is drawn from the pocket.
Emerson Knives was the first to bring you a folding version of the Karambit and is the leader of Karambit model folding knives. You will know you are holding an original once you feel it in your hands.
We've also created a Karambit training knife and Karambit DVD training video that are available for you to get the most out of your Emerson Karambit.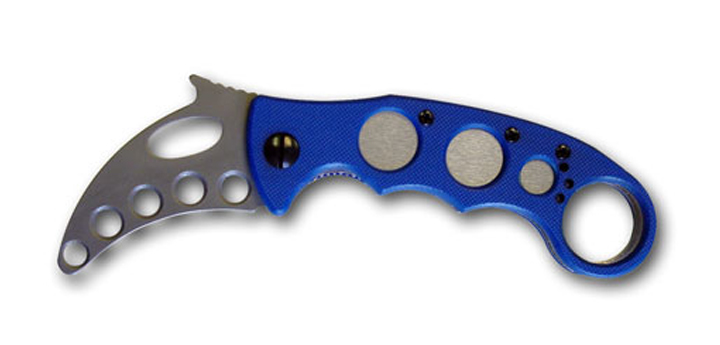 Take advantage of our Summer Promotions –
Free shipping and triple reward points on all Summer Essentials from Emerson Knives.