The CQC-7AW  (Featured at top) is the utility/outdoor version of the CQC-7 series of knives. The CQC-7AW knife is built on the principles that have made it one of the best selling folding knives ever developed: ruggedness, dependability, and functionality–the hallmarks of Emerson knives. The Mini CQC-7AW is the utility/outdoor version of the CQC-7 series of knives. ThisCQC-7AW  knife, the "A" model, features a reinforced spear point blade, double V grind and is built to last… forever. Now available with a variety of colored handles. For the month of May, take 10% off Any Mini Model. 
---
This Mini-CQC-8 still has all of the aggressiveness of the
Full Size CQC-8 but is more pocket friendly for someone on Horseback.
I think you'll like it. As some of you know, I live on a ranch with horses.  You may also know that I grew up on a farm.  Anyway, we all know how important a knife is when you're working around a farm and livestock.  In regard to horses, a strong sharp knife is not an option, it is essential.  Every cowboy knows that his knife is his lifejacket.  When something goes wrong with livestock, it goes wrong fast.  A knife is generally the only thing that will get you out of a wreck with your life. Here we have showcased the Krytpek Horseman, an Emerson Knives Original.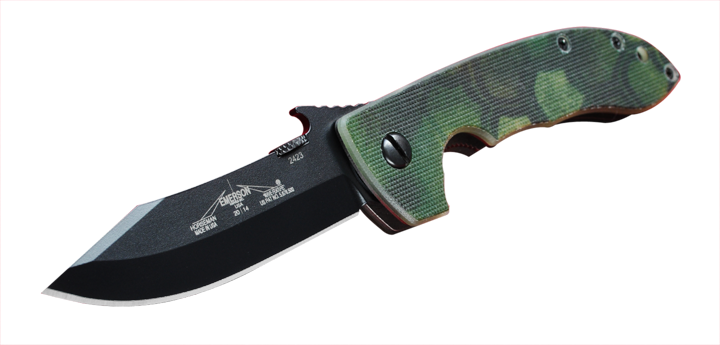 ---
The Mini Desert Roadhouse
is the tough little brother of the standard Roadhouse knife. Big enough to be badass on its own, it offers discretion in your pocket.

Definitely part of the Emerson Utility Essentials collection.
This is the last week to enjoy 10% off any utility models at EmersonKnives.com