Last month, we introduced the Signature Series concept, and this month, we are excited to bring you the Emerson Combat Systems Fighter. With a very limited run, and Emerson Knives designer Ernest Emerson's personal signature on the blade, this is surely going to be a collector's item.
Read more about this signature piece by visiting the Combat System Fighter, and be a part of knife history.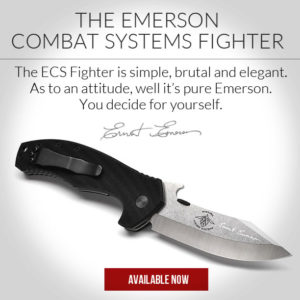 Overall Length: 8.9 in.
Blade Length: 3.8 in.
Blade Thickness: .125 in.
Hardness: RC 57-59
Handle: G-10
Blade: 154 CM
Finish: Stone Washed or Black Coating
The Emerson Combat System is based on the foundation of Principles and Attributes. The principles are the things that work in a combat environment and the attributes are the skill set and attitude that the individual brings to the fight. As an instructor, and Black Belt Hall of Famer, Ernest Emerson has taught his system to Military, Law Enforcement and civilians all over the world. As a knife designer he has created the most respected and sought after edged weapons in the world. Ernest Emerson knows intimately what those principles and attributes are. Two of those principles, Economy of Motion and Efficiency of Action are dramatically expressed in perfect balance in the Emerson Combat Systems Fighter. The ECS Fighter is simple, brutal and elegant. As to an attitude, well it's pure Emerson. You decide for yourself.