Auction Starts December 7, 2013 at 12:00 pm PST.
To view the Auction go to http://www.emersonknivesauctions.com/auction/
All proceeds from the CHARITY AUCTION GEORGE WASHINGTON COLLECTION will be donated to the very special charity the Navy SEAL Foundation http://www.navysealfoundation.org/
The Patriot Knife George Washington Collection
This year's auction features a charity donation knife and other items like none ever offered in the history of knife making.  The US Patriot, George Washington knife and historical George Washington collection.
The Emerson George Washington Patriot is a knife crafted with 250 year old oak from a tree on our Founding Fathers original farm, alive when he led the Colonial Army to victory in the War for Independence.  The knife comes with a copy of a surveyors map hand drawn by Washington himself, showing the very location of the tree on his property along with a letter of provenance.  But that's not all, the knife has a beautiful custom designed die cut copper gun metal coin inset into the handle featuring a striking profile of George Washington as president of the United States.  And, we are not over yet. This truly unique collection also includes a rare bottle of George Washington's Whiskey distilled using his original recipe at his original distillery located at Mount Vernon.  And in this collection is a very rare first day of issue Washington Purple Heart stamp and artwork, postmarked at the Mount Vernon Post Office on its first day of issue May 30, 2003. And also included is the seminal Biography of George Washington, a hand signed edition by the acclaimed author Stephen Brumwell.  This book is considered to be one of the most accurate and insightful account of Washington's time at war, ever published.  Then to top it all off is a US flag flown over the historic home of George Washington his Mount Vernon home site along with certificates of authentication. View the CHARITY AUCTION GEORGE WASHINGTON COLLECTION below.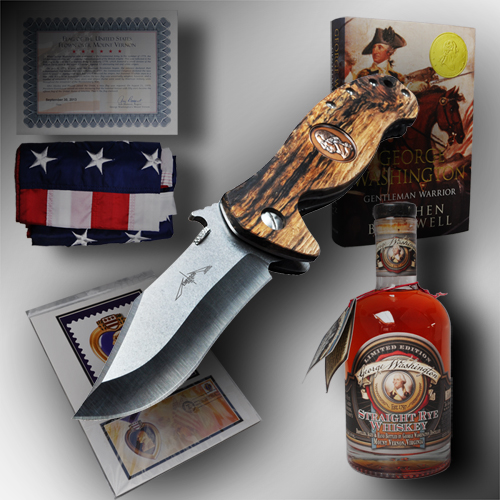 George Washington
"The Patriot"
I am a student of history.  My specialty in ancient history and specially the Middle East.  But I'm also a U.S. history buff and have studied the history of the forming of this nation for years.  In any discussion of the events surrounding the Revolutionary War Period one name is always central to the discussion, George Washington.  Now, it is only obvious that it is so, because not only was he the commander of the Colonial Army but he was also our nation's first President.  So from a historical and cultural view it is logical that he would be so well known, so respected and revered to such a great degree in our schools and in our culture.  But, what I find to be more significant about George Washington is found in the way he was viewed by his contemporaries of his time.  Both by those who favored him and by those who opposed him.
I have always held that the men, the events, and the time of the founding of this country created the greatest concentration of intelligence, scholarship, and wisdom in human history.  Maybe the only exception being the philosophers, mathematicians, and thinkers in the Golden Age of Ancient Greece.  It was indeed a time of exceptional men, philosophers, statesmen, leaders, generals, writers, scholars, and politicians.  But, even to those men of such great accomplishment there was one who was regarded by all as being the one above all others, the exception among the exceptional.  That man was George Washington.  The title, Father of Our Country, runs much deeper than in the casual way it is applied today.  Not as well read, not as well educated, not as worldly as most of his contempories, he was none-the-less regarded by all of his peers, including Madison, Hamilton, Jefferson, Adams, and Franklin as the leader among leaders.  Washington was possessed of one of the most admirable of all noble traits, sound judgment. As a result, he had the ability to make decisions, the right decisions on almost all major issues.  And even more important he was incorruptible. So many times while holding it in his hands or being offered it for life, he withstood or refused the corruption of absolute power and it's addiction, as few men if any, in the entire history of mankind have ever done.  Thus, his regard, by those who served with him, knew him, worked with him or opposed him, was undisputed then and it should be also honored, respected, and thus revered by us today, 214 years after his passing.  Foregoing the effort of creating volumes of supporting evidence, it is the overwhelming consensus of historians that without George Washington, there would be no United States of America as we know it today.
As you may surmise, I also regard George Washington just as did his peers during his lifetime. And I thank God we had his hand at the forge of the fledging nation, that would become the greatest experiment in human liberty, freedom, and prosperity ever conducted by man upon this earth.
The Patriot Knife
As chance would have it in 2012, I was lucky enough to be in position to obtain some very special wood. During a violent storm a very old and venerable oak tree was blown down by near hurricane force winds.  This old and majestic Virginia Oak had been growing since the time General George Washington had led his ragtag army of merchants, shop keepers, and farmers to victory against the greatest and formidable Army and Navy in the world, the might of the British Empire.  This mighty oak had withstood drought, disease, and fire for over 250 years.  It had watched the birth of this nation and had grown strong and tall with this country through the wars of 1812, the 1st World War, World War II, Korea, Vietnam, Iraq and Afghanistan.  It had spread its leaves and given shade to a country that had willfully and willingly sacrificed the blood of its most precious treasure, it's young men and women, time and time again so that those less fortunate could also see a light parting the dark clouds of oppression that are the bright rays of freedom.  It was a tree never felled by the woodmen's axe and it took the fierce power of a higher hand to tear it's mighty roots from the rich Virginia soil it had drawn nourishment from for over two centuries.
What makes this tree even more special is the fact that it is from the original farm owned by George Washington on the banks of the Potomac River, near Mount Vernon, the Historic Washington home.  After obtaining the wood, I designed a very special knife simply called the Patriot.  It is a working man's knife similar in many aspects to a knife that many of that time would have carried, the exception of course being that it is a folding knife and not a fixed bade.  That aside, it has a Bowiesque style blade with a slight recurve much like a colonial hunter would have carried on the hunt for a Whitetail Dear and subsequently carried into battle across the Delaware or perhaps used to stir the fire with during the deadly cold winter at Valley Forge.
I took this historical wood and rough sawed and quartered the pieces into slabs according to the best look of the wood.  After two hundred years the pieces reflect beautiful grain and spalting not found in contemporary furniture grade oak.  It really is the most beautiful oak I have ever seen.  I then had these pieces treated in a wood stabilizing process that impregnates them under an intense vacuum process with a resin that hardens, protects, and will preserve them for many generations to come.  The handles are then machine cut to size and then hand contoured and finished to a beautiful satin sheen which brings out and showcases the natural beauty and character of these striking handle showpieces.
To further memorialize these special edition knives we designed a custom die struck coin finished in gun metal copper (common in that time) showing a famous profile of Washington from his time as 1st President of the United States. Each coin is hand inset into the handle of each knife providing a perfect complement to the historical oak handle package.
As a young man, of 16, George Washington worked as a surveyor for the Fairfax family and surveyed and mapped large portions of the "vast wilderness" that would later become the burgeoning United States of America.  As a result we have obtained copies of the original plot surveys hand drawn by Washington himself showing the original farm where this mighty oak tree was located.
Every knife comes with a reproduction of that map showing with an X, exactly where the tree that provided these handles was located.  Each serialized knife comes with a matched serialized letter of provenance and the matched serialized map to complete an heirloom package which allows you to hold something in your hand that directly ties you back to the birth of this great country and to the presence of it's true founding father, George Washington, the first President of the United States of America.