It's not a big secret that the Karambit Knife is one of the top searches for tactical knives on the internet today.
We are definitely having a Karambit Summer this year. Our shelves are stocked and we have a bunch of karambits in stock, ready for the season, and to add to the heat, free shipping on all orders over $200. With a stone wash, this fixed blade karambit would look best by your side. During the hot months, be sure to take advantage of our triple points promotion and earn credits towards future purchases. This deal goes away with the summer months, so be sure to stock up now.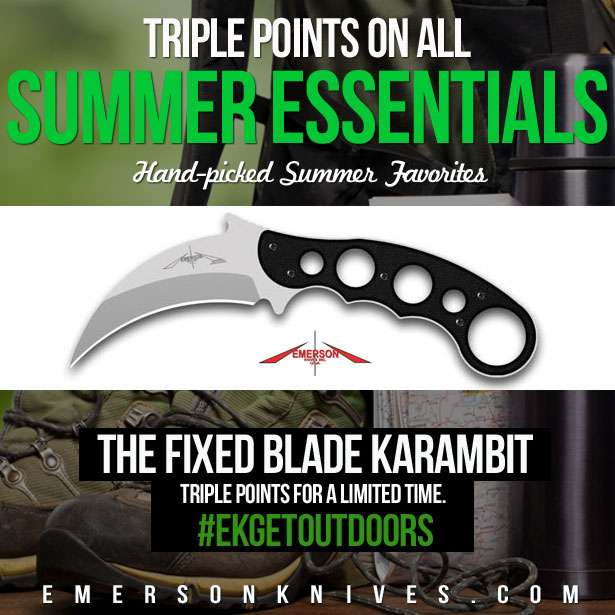 The Karambit Fixed Blade is here just for those of you who do not like moving parts. This is a wicked, wicked blade and is virtually unstoppable once you put it into motion.
Based on the claw of a Tiger, there is no need to explain the efficiency of its design. It has been around for millions of years in some of the most efficient predators on Earth. The Karambit Fixed Blade is not available with serrations. Right now, we have the Fixed Blade Karambit SF in stock.
---
Introducing the ultimate 21st Century Folding Karambit Knife from Emerson Knives. This Folding Karambit brings you the first in the next generation of folding knives. With the advantage of the Emerson "wave shaped feature", this is one of the finest personal defense weapons ever developed.
Others will follow, but you will own the first and the best from the worlds leader in "Real Deal" Hard Use Knives, the Emerson Combat Karambit. Order yours today and get triple points and free shipping. 
---
This Karambit training knife brought you by Emerson Knives is a fully functional training folding knife that enables you to take your training to the ultimate in practical realism. These are the knives that were developed for the Emerson Edged weapons training courses. These knives, including the Karambit trainer, are the perfect training aids for CQC practice and scenario based reality training. They are exact duplicates of our actual knives with steel dummy blades.
Also offered in two additional models, the CQC-7 and Commander, they allow you to use your knife in training without the danger of being cut or stabbed accidentally. You carry the real knife, now you can train with the real knife. Now in stock, the Emerson Karambit Trainer is a must have.