Rendezvous
Take the Rendezvous with you on your next adventure, hunting trip or as your daily carry. Tactical – Utility – Outdoors
Out of stock
The Rendezvous
Since the beginning of this country, rugged men have ventured west seeking fame, fortune or maybe just for the pure sense of adventure. Traveling by foot, many times they traveled hundreds of miles into virgin forests covering mountains of uncharted wilderness. Carving out their existence in the solitude of the lonely wilderness these men would often go months without ever seeing another human being.
Except for the Rendezvous. The Rendezvous was a gathering that all the trappers, hunters and mountain men attended to trade, sell and barter their goods. It was a place to gather up supplies and it was a place to celebrate. The Rendezvous became the event where stories were told, news was passed, exploits were embellished and gallons of whiskey were downed. Stories of these wild get togethers quickly became legends of their own.
The Emerson Rendezvous Knife is very much like the knives those intrepid wanderers always kept at their side. The biggest difference is that our Rendezvous is a folding version of that mountain man tested blade design, just like the ones men like Jim Bridger, "Old Bill" Williams, Hatchet Jack, and Flat Top Thomas would have carried (Thomas was scalped). This knife will take care of any hunting, camping or skinning chore you may face with ease. Get one, take it with you on your next adventure and when you're sitting next to your campfire, pull it out and just imagine what Liver-Eating Johnson would say if he was there and you handed it to him.
Getting To Know Your Knife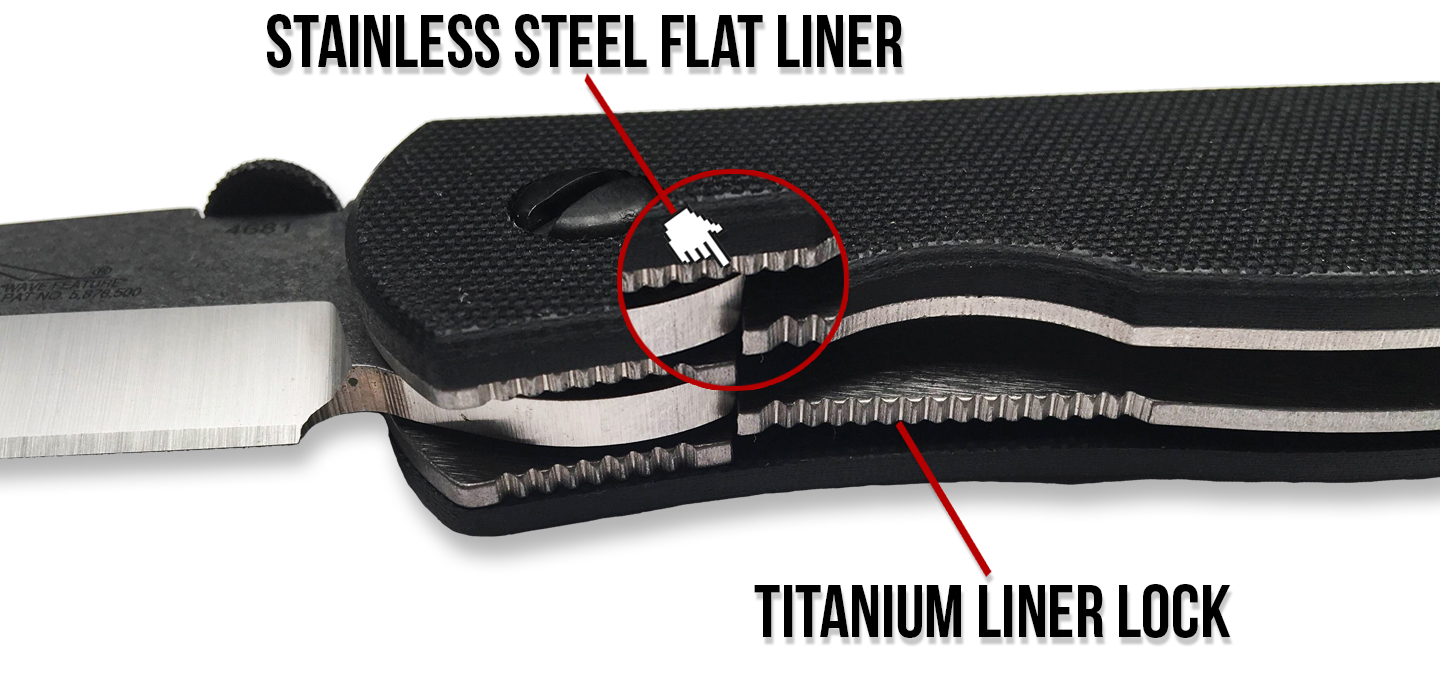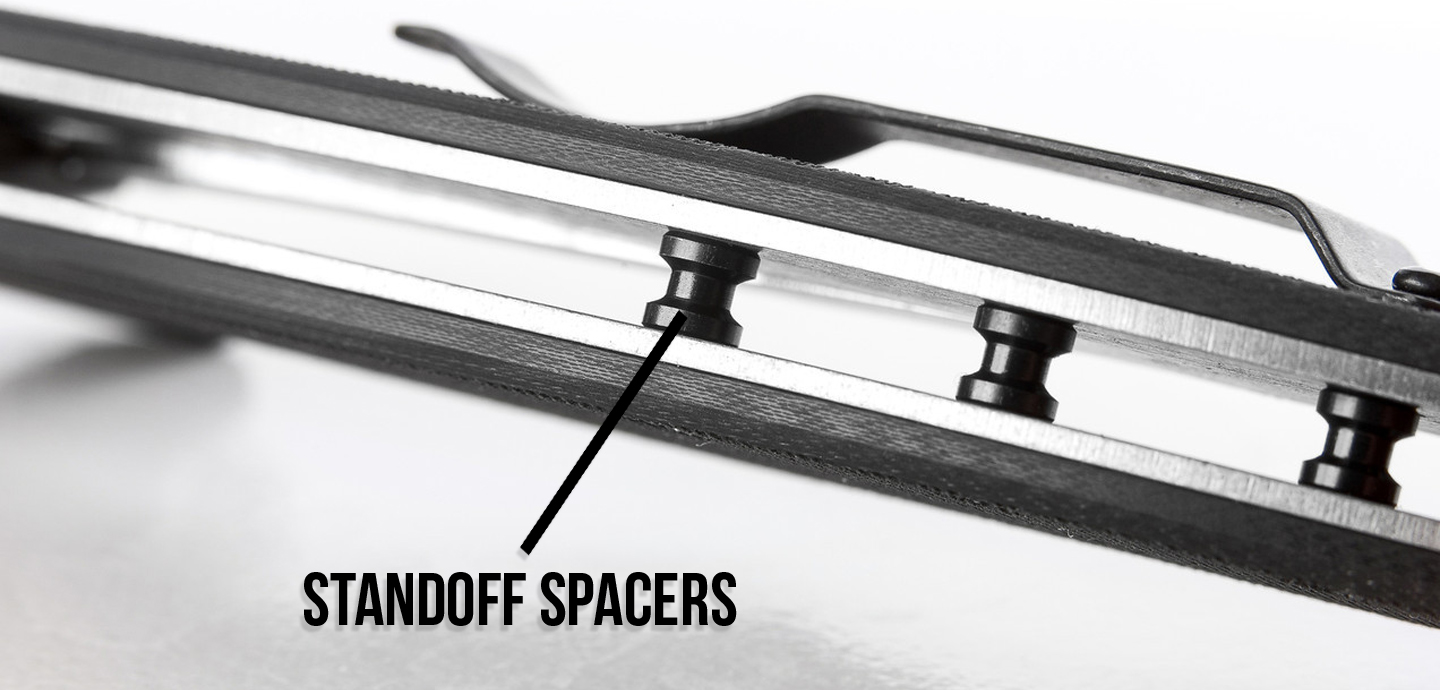 Standoff Spacers have been standard on all Emerson Knife models since 2014. Any knife ordered from our site from that year will receive one of these models.
Please note that some Emerson Knives resellers have older stock so there is a small chance that they will have the solid G-10 backspacer shown to the right.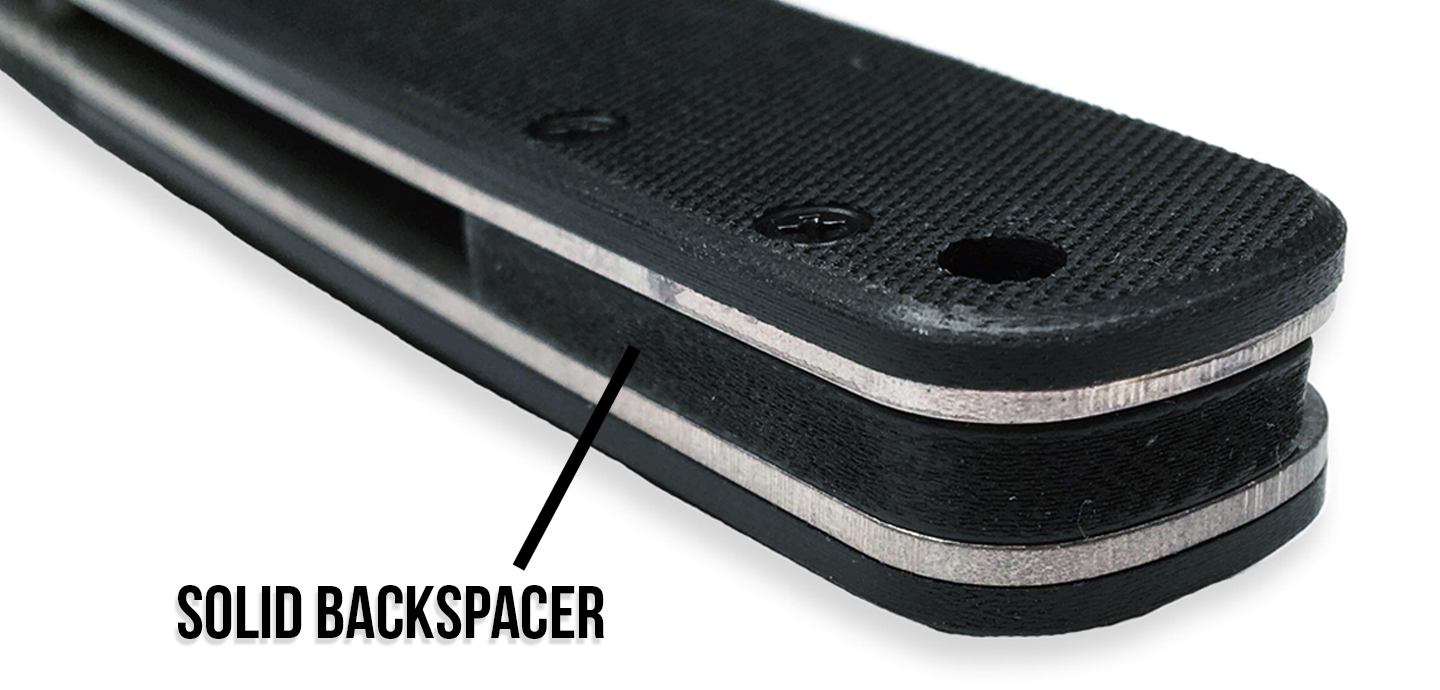 Solid back spacers are no longer standard to our production line. You can tell the difference between newer and older models by looking at many things such as the spacer type.
Both perform their function identically and there is no advantage or disadvantage to having either variation.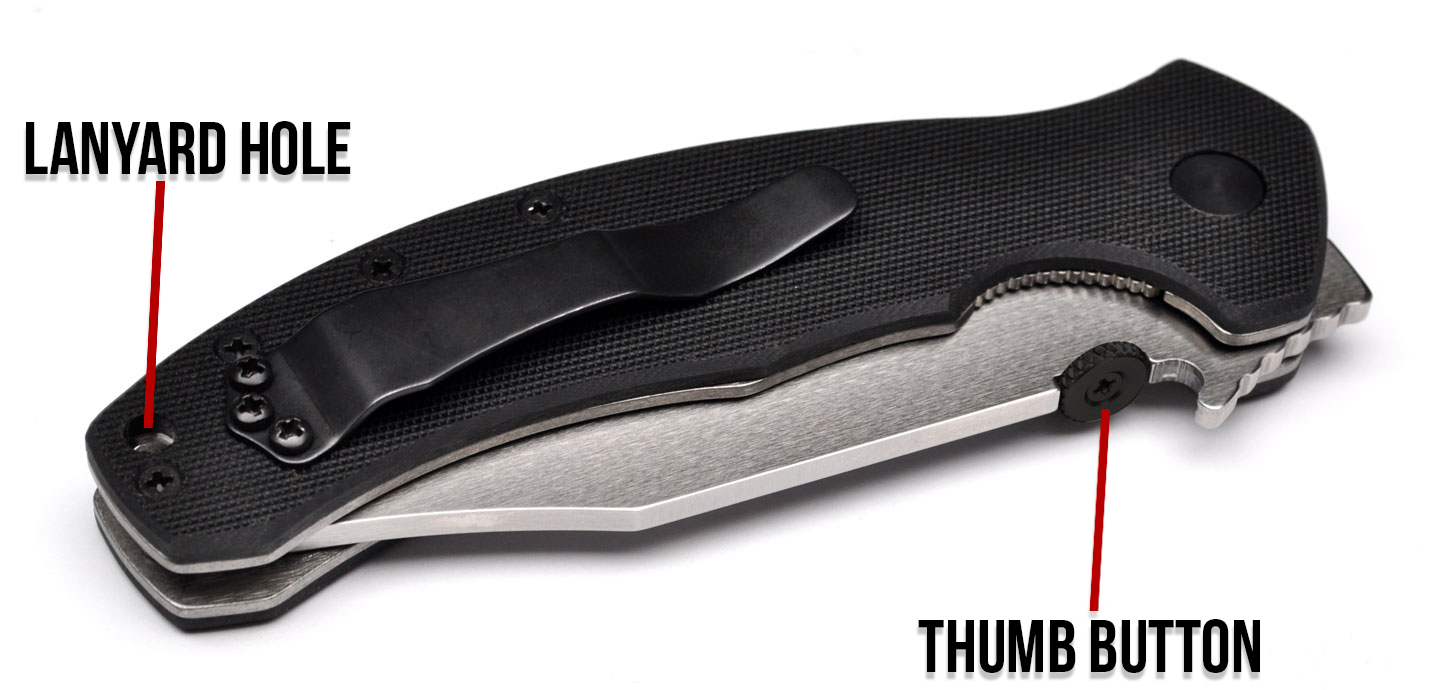 Lanyard Holes serve one purpose: attaching a paracord lanyard if you choose to get one. We get asked that question quite a lot!
The Thumb Button is there so that you may open the knife single handedly . Specifically with your thumb. Some people are naturals at it and some have to learn. Either way, it's very useful.
Getting To Know Your Blade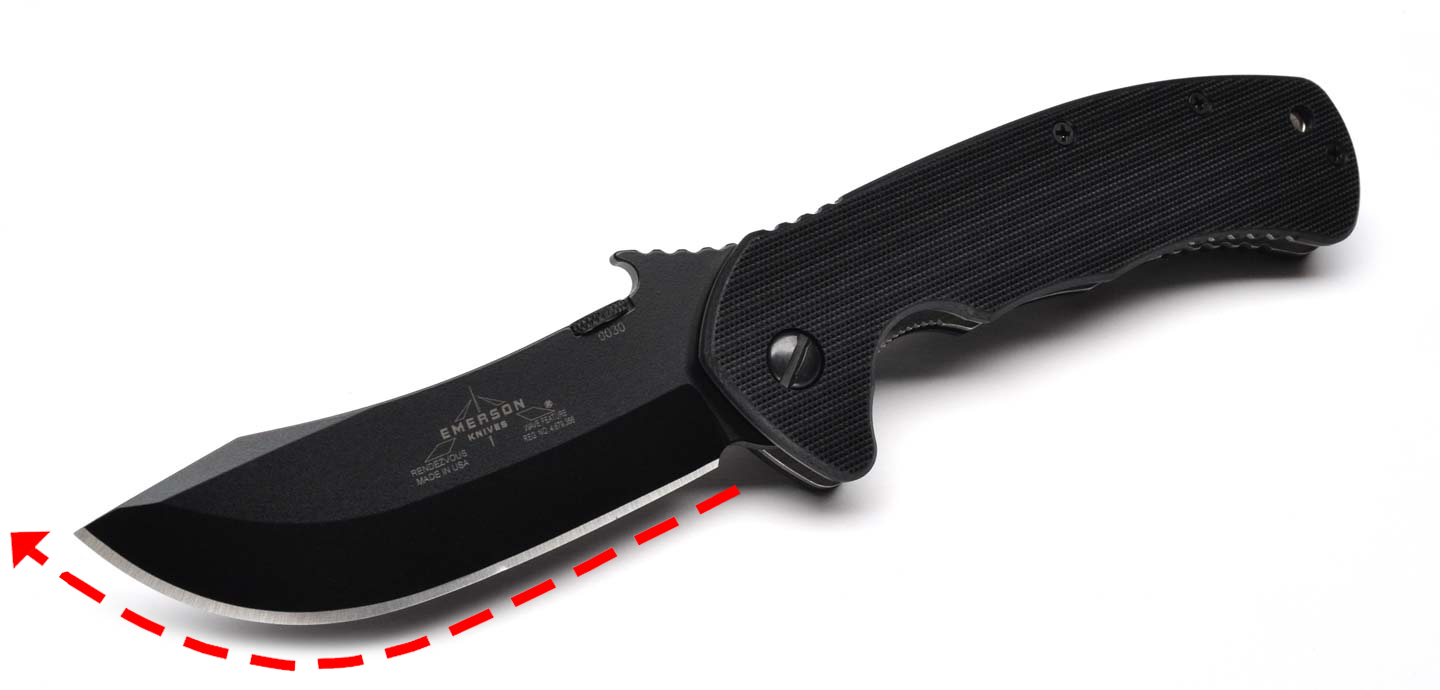 Hunting Blade
The hunting blade must serve a dual purpose for both utility chores and skinning. The blade edge runs straight out for over 3/4 of it's length and then turns abruptly upward for a wide belly suited for skinning. The top of the blade is "clipped" to bring the point to the center line of the knife.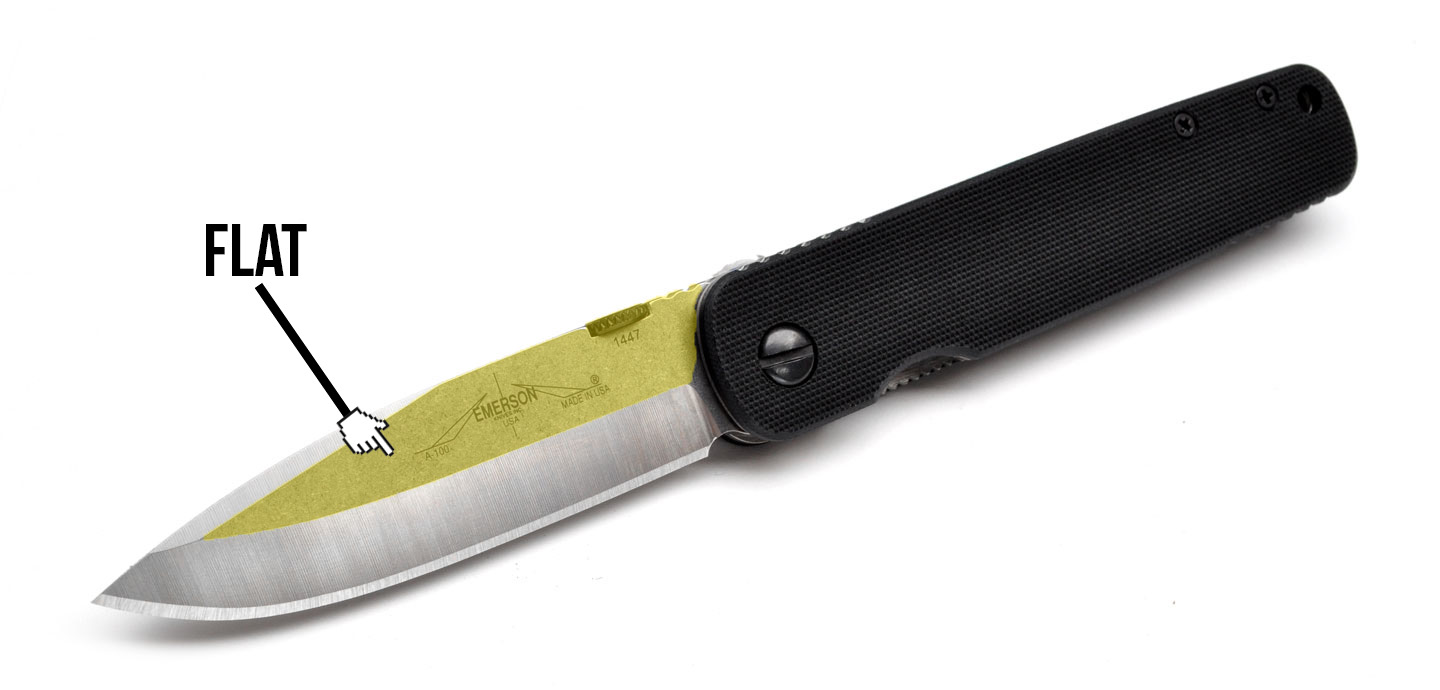 The flat part of the blade is where the logo and model information will be.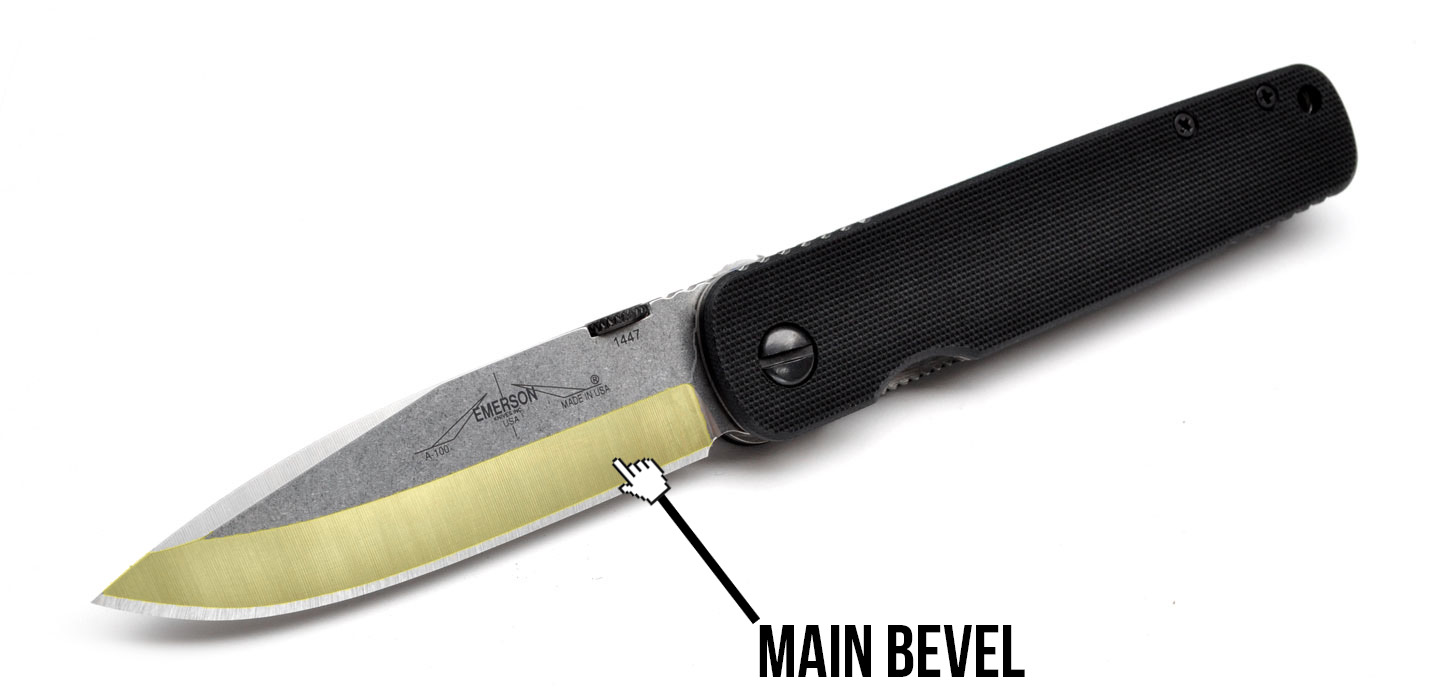 A bevel is where the grind begins and it will continue down toward the bottom of the blade.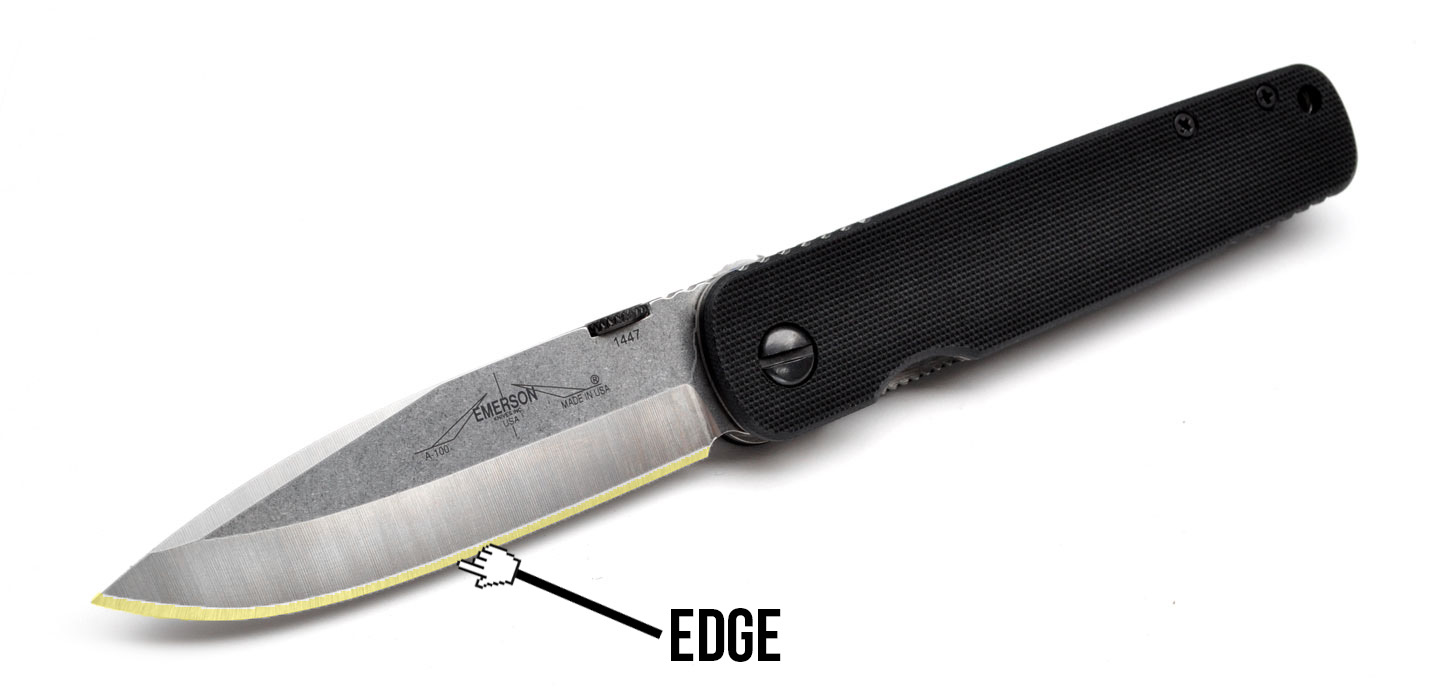 The edge is the point at which the blade is sharpened into a 25-30 degree angle to achieve a razor sharpness.
Using the above information, you can now determine what type of blade edge you have.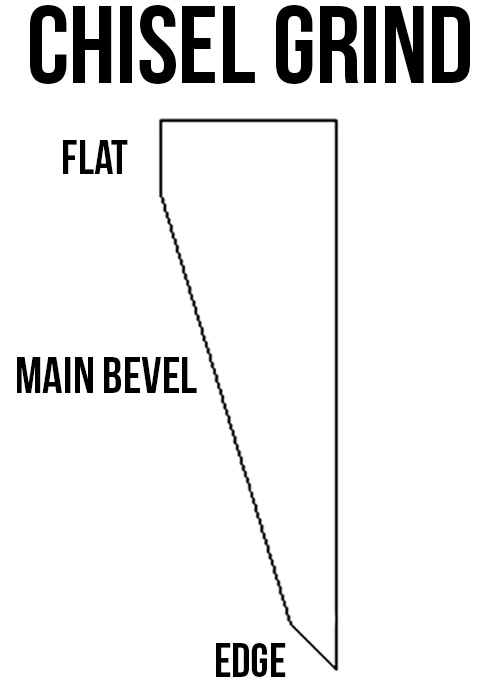 A standard Emerson Chisel Grind will be completely flat on the back side of the blade. It will have the flat part, move into a bevel and finally into the cutting edge.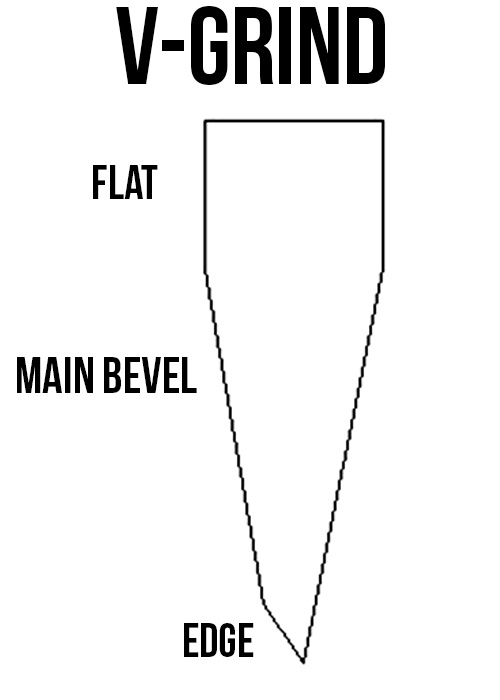 An Emerson conventional V-Grind will have the same layout but it will have a bevel on the front and backside. However, this bevel will not be sharpened into a cutting edge. The edge will only be ground on the front side of the blade.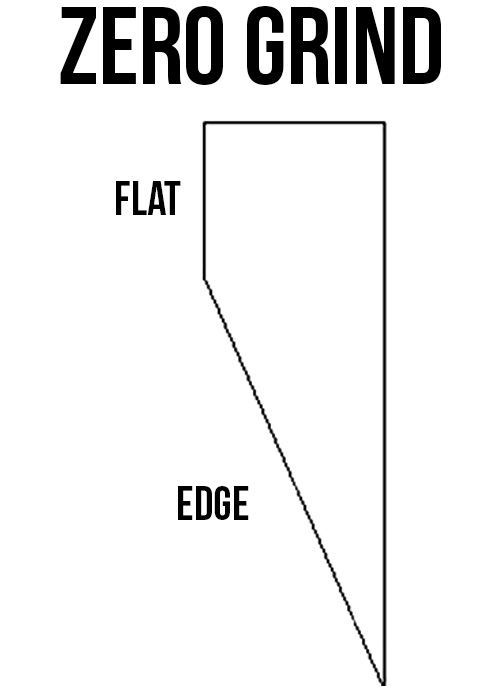 The Emerson Zero Grind will only been seen on handmade Custom Emerson Knives. These hand ground blades skip the bevel completely. They go from the flat surface and dive into the cutting edge, thus giving it a true razor sharp chisel edge.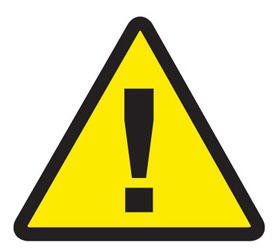 WARNING: Cancer and Reproductive Harm – www.P65Warnings.ca.gov
Material & Grind
Handles
G-10
Lock
Titanium
Blade
154CM
Finish
Stonewashed
Grind
Conventional V-Grind
Specifications
Overall Length
8.6 in.
Blade Length
3.6 in.
Blade Thickness
.125 in.
Hardness
57-59RC