THE WORLD'S LARGEST KNIFE SHOW
JUNE 7-9TH, 2019, ATLANTA
——————————————–
Seminar

: Saturday, June 8th at 9:45 a.m.-10:45 a.m. Room# 104
Lottery

  Saturday, June 8th at 3:00 p.m.-4:00 p.m. Room#103
BLADE SHOW EXCLUSIVE RELEASE:
Simplicity breeds reliability. And the Renegade Folder and the Renegade Fixed Blade bear witness to those words. It's been said that the ultimate expression of evolution is simplicity. In the Emerson Overland series, our knives are the epitome of that evolutionary simplicity. They are built and designed for the hardest users, in the harshest environments, on the planet Earth. Whether your journey is by sea, air, or land, we here at Emerson Knives already know that an Emerson knife will do the job, any job you would ever ask a knife to do anywhere you choose to go. Pick one up and put it to the test for yourself.
The Renegade Fixed Blade comes with a handmade leather sheath. Made in the USA!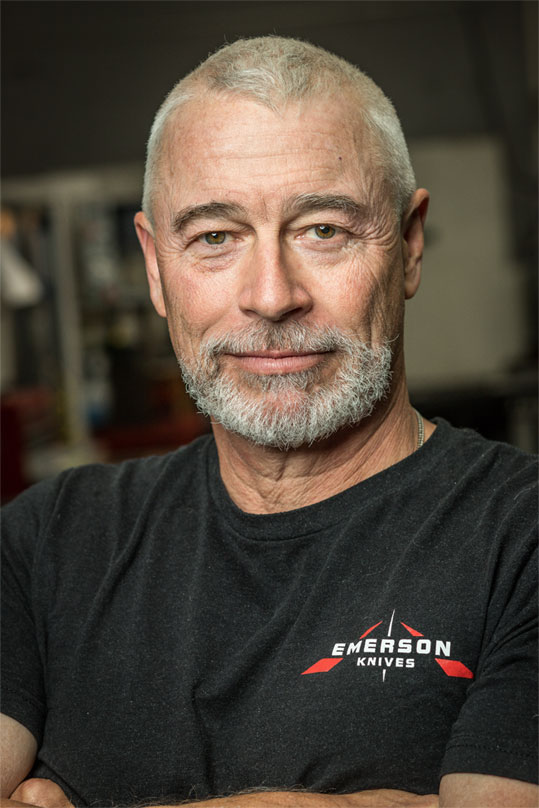 Saturday June, 8th at 9:45 a.m.-10:45 a.m
Cobb Galleria Center Room# 104
FREE BLADE SHOW SEMINAR BY ERNEST EMERSON
Knives, Bad Guys and the Law: What to Do if You Carry
I will be discussing the moral, ethical, and legal responsibilities of the use of deadly force and the consequences of living the life of a warrior.
There are essential things you need to know and things you must do in order to survive not only the first fight but the next fight that will come soon after.
Don't win one only to lose the other. This is a source of information that can not only save your life but save you from getting a life sentence.
Learn the rules, strategies, and mindset that a warrior needs to face the danger of extreme violence, prevail and live to fight another day.
If you are a protector of the innocent, defender of freedom, or guardian of the ones you love, join me for this valuable seminar and come early because it's usually standing room only.
This is not a martial arts seminar. This is a mental arts seminar.
My Best Regards,
Ernest Emerson
Ernest Emerson Custom Knife Lottery
Saturday June 8th in room 103 from 3:00pm-4:00pm
This year Ernest Emerson is bringing a wide assortment of hand made custom knives for the Blade Show Lottery. There will be new models and some classics. The Non- Waved CQC-8 and CQC-6 knives are some of my personal favorites and I am glad that we were able to convince Ernest Emerson to make them for this show!
Click the image to enlarge Mr. Emerson's build list for the show.
As you know the lottery room fills up fast so get there early. We will try to get through the lottery as quickly as possible so if you are drawn you must be there right away in order to claim your custom knife. We ask that you do not fill out a lottery ticket unless you are prepared to purchase a custom knife at the lottery.
LOTTERY RULES:
You must fill out a lottery ticket clearly with your first and last name and enter it into the drawing wheel located at the Emerson Knives booth #1604 prior to the start of the lottery.
Limit one lottery ticket per person.
Each person entered in the lottery must be present at the lottery in room #103 at 3:00pm in order to claim their knife.
Lottery winners win the opportunity to purchase an Ernest Emerson Custom Knife. Prices start at $800.
Cash Only is accepted for payment of lottery knives.
The prices for the standard customs are $800 and the Super Size Knives are $900.