One More Beer Campaign
Saturday May 2, 2015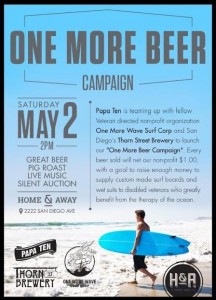 Papa Ten is teaming up with fellow Veteran directed non-profit organization One More Wave Surf Corp and San Diego's Thorn Street Brewery to launch our "One More Beer Campaign".
Every beer sold will net our non-profit $1.00, with a goal to raise enough money to supply custom made surf boards and wet suits to disabled veterans who greatly benefit from the therapy of the ocean.
We have donated various Emerson Knives gear to the silent auction, so good luck!