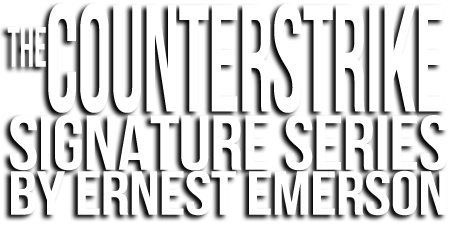 The Counterstrike – Newest Signature Series Model
From Ernest Emerson
Only a limited number will be available
The Countertrike:  Secure in the hand, effective in application and legendary in reputation
As a boxer and a fighter, over all the years, I've run into almost every style of fighter that exists: Technicians, boxers, brawlers, punchers, speed demons, and iron-jawed scrappers, but the ones who always gave me the most trouble were the counter-punchers, the ones who could counterstrike almost seemingly faster than I could strike. Their sense of when and where to strike always seemed to be just a step or beat ahead.
Whether it was their timing, reflexes, their ability to read the next move, or their overall sense of the fight, I just don't know. Some fighters have it and some don't. I was a brawler. I didn't have it, but I could sure tell when someone did, especially if he was standing right in front of me. You learn to recognize it right away. I loved it. It was like art in motion. Even if I was getting beaten like a bongo drum, I still couldn't help but admire the skill.
Like I said, I learned to recognize it. The Emerson Signature Series Counterstrike knife has it. When you look at it, it just cries out poetry in motion. Like an Italian race car, it looks fast just sitting still, ready to jump out and deliver a devastating counterstrike to anything that threatens your safety. Built in the super-ergonomic and rock rugged frame of the Emerson CQC-13, the Counterstrike features a wickedly sharp and impressive trailing point, tanto shaped blade style that will cut its way out of or through almost any situation.
Are you a brawler or a counter-puncher? Doesn't matter, because the Emerson Counterstrike will definitely stack the odds in your favor.
-Ernest Emerson
Each blade is serialized and comes hand-signed by designer, Ernest Emerson.
Signature Series Counterstrike
Overall Length: 9.0 in.
Blade Length: 3.8 in.
Blade Thickness: .125 in.
Hardness: RC 57-59
Handle: G-10
Blade: 154 CM
Finish: Stone Washed or Black Coating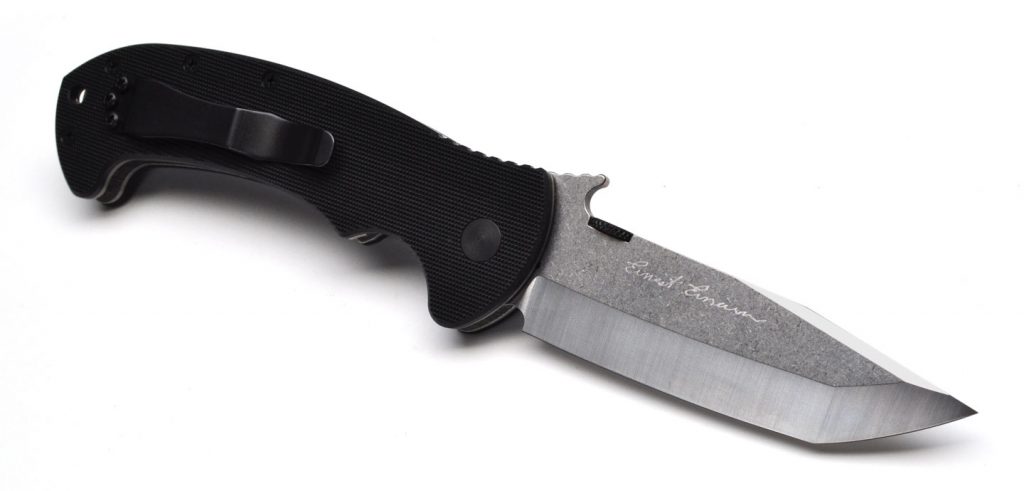 Share the Emerson Counterstrike with your friends.
[fm_share_twiter text="EDIT THIS TEXT"]
[fm_share_pin media="FULL URL FOR IMAGE" text="SHARE TEXT"]