Resco Watch & Emerson Knife Auction

We are very excited to present this Resco Watch & Emerson Knife Auction to you. For years, Emerson Commanders have been one of the U.S. Navy SEAL Teams personal favorites for their choice as a combat folding knife. In fact they were developed at the request of a "special" unit within the Naval Special Warfare community.
The company Resco Instruments was founded by a U.S. Navy SEAL with the idea that he could make a better watch designed by a SEAL and built for SEALS. And as a result Resco Watches soon became the go-to personal favorites for the SEAL operators to wear.
For this special Resco Watch & Emerson Knife Auction event Emerson Knives and Resco Instruments have locked shields to bring you the ultimate Special Warfare combination, two precision built instruments designed to meet the rigors of combat and to stand up to the harsh standards demanded by one of the world's most elite fighting units. Both Resco and Emerson have proven records in both regards and their reputations speak for themselves. The Resco Watch & Emerson Knife Auction.
Resco instruments founder R.E. Smith set out to build a watch that he could confidently wear on deployment and on any mission that he was assigned. This was no easy task as SEAL operators are tasked with operating in the most forsaken and demanding environments possible, on the Sea, in the Air or anywhere on Land just as their name describes – SEAL. Smith developed a watch named the BlackFrog specifically for that purpose and it became a fast favorite among all the team-mates that could get their hands on one.
This watch donated by Smith and the folks at Resco Instruments is the BlackFrog Gen 1 model featuring a Black DLC finish, matte black dial and a sapphire crystal. This watch is in the words of Smith, "a little more at home on the darker side of things." Created at the request of fellow team-mates searching for a more subdued watch, the result was a black-out lume dial and grey hands (subtle glow). The BlackFrog dials are unique and handmade (lume is filled by hand). Pleased with the results, team-mates picked the name and the "BlackFrog" was born. These watches are in high demand and are extremely limited. The retail price for this special watch is over two thousand dollars.
BlackFrog Gen 1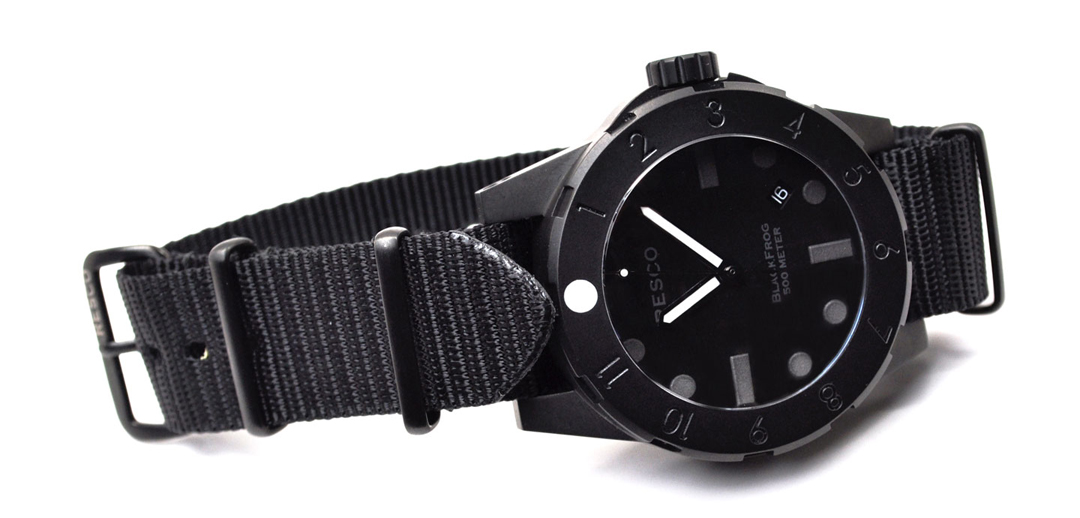 CASE
316L Stainless Steel DLC Black Finish
200 Meter Gen1 Case
DIAL
Matte Black with C3 SuperLuminova; subtle glow
MOVEMENT
Swiss Val 24 or Eta 2824
Self-winding mechanism
CRYSTAL
Domed Sapphire
Single inner AR (Anti Reflective) coating
SIZE
20mm Lug
42mm Diameter
13mm Thickness
Hex Screw Lug
Screw-down Crown
Watch box included
Ernest Emerson was approached by members of the US Navy SEALs to develop a "special knife" that was big enough, strong enough and fast enough to deploy into action in the chaos of combat. Yet it still had to be able to fit in a pants pocket for covert carry. They were very specific in requesting that the knife possess a hook or projection of some type on top of the blade to prevent another knife from sliding up the knife and into the users hand in a combat application.
Emerson came up with a wave shaped feature on top of the blade and little did any of us know that the "wave" also served to open the knife as it was withdrawn from the pocket. As you pulled the knife from your pocket it self deployed into an opened position making it the fastest opening knife ever developed. And thus was born the Emerson Commander knife. Emerson says, "This knife was developed for one reason – Combat – and it has seen use in the harshest conditions in the hands of the hardest users on this planet. And they've been going into those same hands for almost 20 years now."
Ernest Emerson is by far the most recognized and respected combat and tactical knifemaker in the world and his custom pieces are unobtainable except at prices totaling many thousands of dollars. For this project and charity auction Mr. Emerson has created and donated a one-of-a-kind handmade, custom BlackFrog Commander.
The knife features checkered micarta scales, titanium bolsters, titanium liners and lock, and a 154CM stainless blade, all parts hand-ground, fitted and assembled by Ernest Emerson in his custom shop. The entire knife is finished in a charcoal black color, "a little more at home on the darker side of things." This is an ultra rare, unique knife called the "BlackFrog" Commander and the retail price would be over six thousand dollars.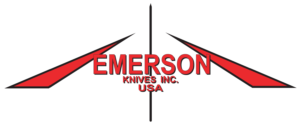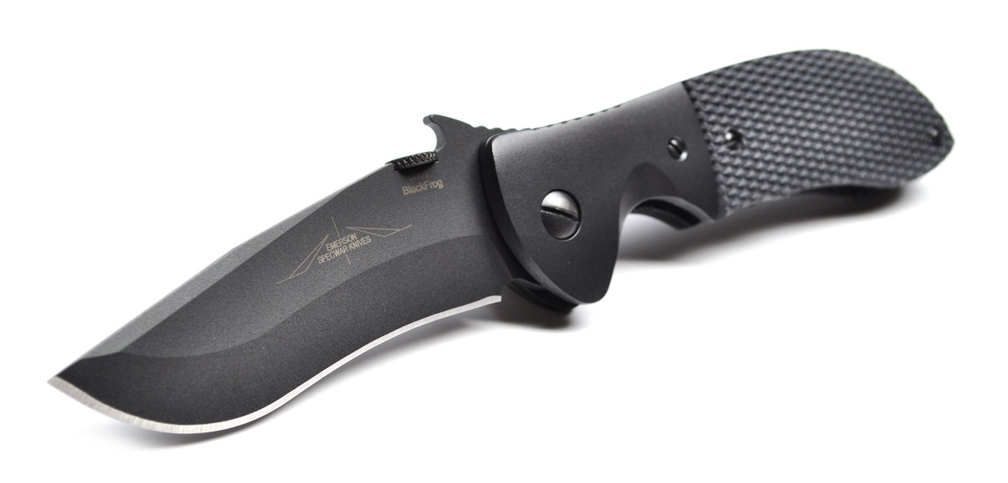 | | |
| --- | --- |
| Handles | Checkered Black Micarta |
| Lock | Aerospace grade Titanium |
| Blade | 1/8 inch Thick 154 CM |
| Finish | Charcoal Black |
| Grind | Conventional V Grind |
| | |
| --- | --- |
| Overall Length | 8.75 in. |
| Blade Length | 3.75 in. |
| Bolsters | Titanium |
| Hardness | 57-59 RC |
| | |
The charity chosen for this Resco Watch & Emerson Knife Auction by Resco and Emerson Knives is Operation Underground Railroad. This company is composed of former Government employees and "special operators" from various agencies such as the CIA, Navy SEALs, US Marines and Army Special Forces.
Their charter, goal and mission is to rescue children from the terrible grip of national and international human trafficking in the child sex and slave trade. They work in all theatres of the globe with various international agencies and state governments wherever their missions take them. They have rescued hundreds of children both boys and girls from this evil in dozens of countries across the globe.
These missions are not just paper trails, they are dangerous, dirty and involve dealing in situations with the lowest scum on this planet often at great risk to their own safety in order to free children from the spider web of trade in which young girls and boys are bought, sold and traded like livestock to the highest bidder.
As a father and now a grandfather I cannot think of anything more noble and deserving than to support an organization and the teams that are sent into hell to pull these innocent victims back to freedom and safety.

100% of the funds raised by the Resco Watch & Emerson Knife Auction will be donated to Operation Underground Railroad. The auction will be held in conjunction with the Emerson Spring Lottery and Virtual Knife Show held on Monday, March 21, 2016.
The auction for this charity event will start on Friday March 18, at 1200 hrs and finish on Sunday March 27th at 1700 hrs Pacific Standard Time.
Don't miss the opportunity to bid for what is one of the most valuable and unique items that we have ever offered for a very noble cause that needs all our support.
And if you choose not to be in the auction we will have a Paypal donation box available for your generous donations also.
Don't Miss Out!
Be the first to know about Limited Edition products
Sign up to be the first to know about  our
newest items, limited edition and special notifications.
[contact-form-7 id="22050″]
Share this page with your friends.
[fm_share_twiter text="EDIT THIS TEXT"]
[fm_share_pin media="FULL URL FOR IMAGE" text="SHARE TEXT"]