COLORED HANDLES NOW AVAILABLE ON MANY KNIFE MODELS
OD GREEN 
CQC-7 BW (NOT FLIPPER)
CQC-7 B
CQC-8 (NOT FLIPPER)
KARAMBIT (NOT FLIPPER)
COMMANDER
ROADHOUSE
ORANGE 
TIGER
KARAMBIT (NOT FLIPPER)
COMMANDER
SHEEPDOG (SPEARPOINT AND BOWIE)
RENDEZVOUS
MARKET SKINNER
COYOTE TAN
CQC-7 FLIPPER
CQC-7 BW
CQC-7 B
ROADHOUSE
CQC-7V
PURCHASE HANDLES SEPARATELY
If you wish to purchase a new set of colored G-10 handles for your Emerson knife, we require the following:
Please specify in the notes section of the 'warranty service/repair form' what color for handle replacement.
The entire knife must be sent to us for proper fitting (we will ship your original handles back). We do not send out replacement handles in the mail.
This is for specific standoff models only. We do not have replacement G10 colored handles available for backspacer models at this time. Please see the list below for specific models and colors. If you send your knife in for any color or model not listed below, you will be responsible for return shipping costs so please read carefully.
It is up to our discretion if any parts must be replaced while be serviced. Emerson Knives, Inc will not be held responsible for damage or loss of custom parts such as custom thumb buttons, pivot bolts or clips. (I.e Steel Flame, etc. )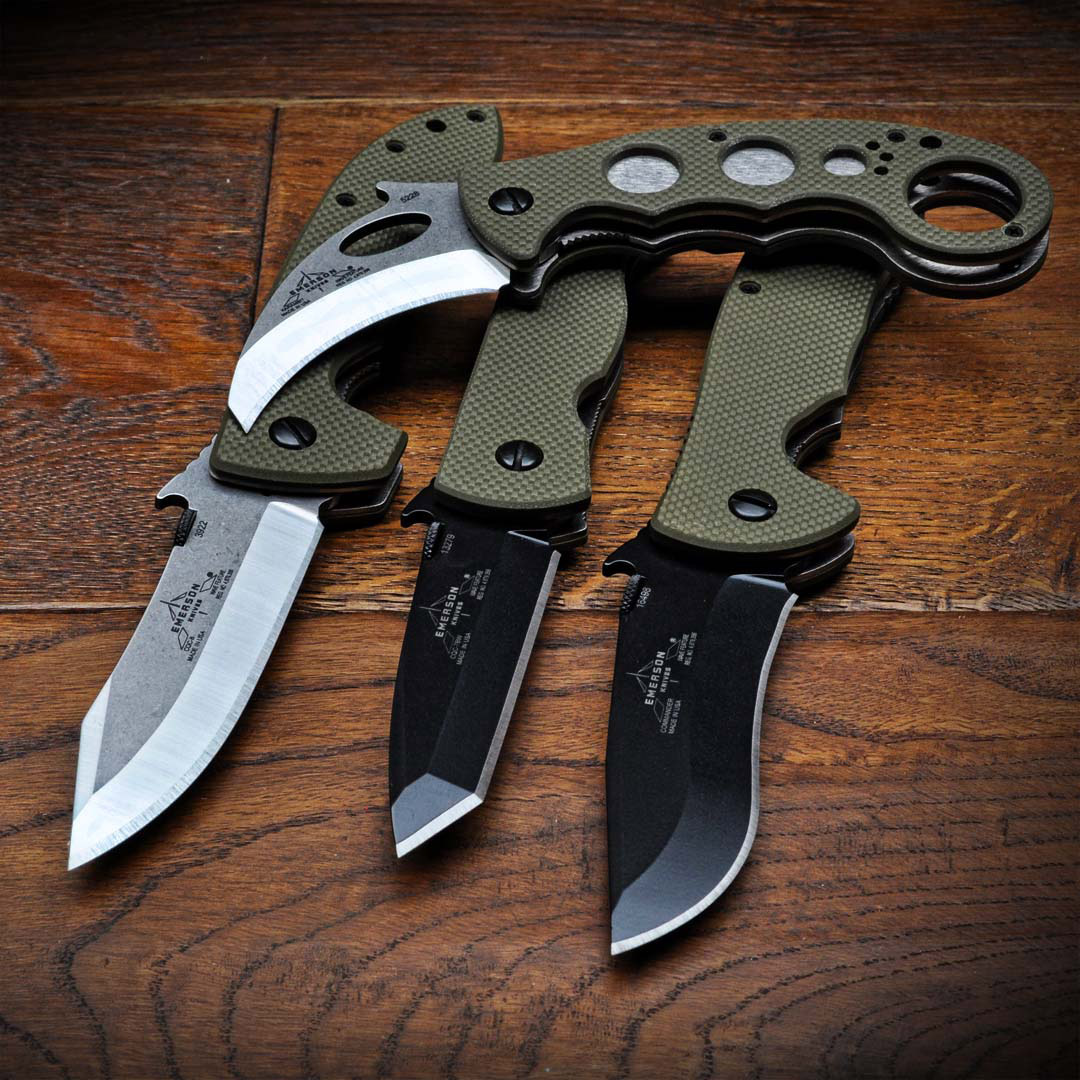 Only unmodified knives can be sent to us for service *WE DO NOT DO SERVICE, WARRANTY WORK OR SHARPEN ANY KNIVES THAT HAVE BEEN CUSTOMIZED OR ALTERED OUTSIDE OF OUR FACTORY AND OR WERE NOT MANUFACTURED BY EMERSON KNIVES, INC.
Please call us with any questions.