Mary Emerson Gives Emerson Knives the Ultimate Test
On August 15, 2001, Mary Emerson was the first person on the scene of what could have been a fatal accident. This is what truly could be called a "freak accident". A lady driving down a street passed by a load of lumber that was stacked in the street waiting to be moved onto a construction site. As her Jeep Cherokee passed alongside the lumber pile, it suddenly collapsed and struck the side of her Jeep, causing her to lose control. She careened into another pile of lumber that acted as a launching ramp sending her airborne about six feet into the air. The Jeep tipped onto it's side in mid-air and bounced off the top of a retaining wall before falling another six feet over a ledge and landing on it's side. Altogether, the Jeep traveled about 20 feet airborne before it came to a crashing halt.
In Mary's words: "I ran over to the jeep and there was the lady inside hung up and suspended by her seat belt. I quickly told my 13-year-old daughter to call 911. It was one of those times when you stop thinking and just start acting. The woman in the car just kept saying, "Oh My God..Oh My God!" I couldn't see any blood but I remember the fear and shock that I saw in her eyes.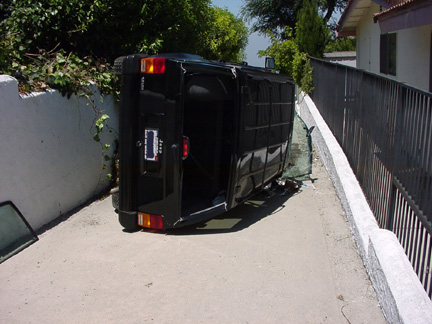 I could see through the front windshield but I could not reach through the broken glass to get to her. "I can't breathe. I can't breathe," was what I heard. I thought I was standing in water but when I smelled the heavy odor I realized that it was gasoline. The motor was still running and I wondered if the car could catch fire. The shoulder harness was across her neck and all of her weight was suspended on her neck, strangling her. By now another person had run over, and between the two of us we got the drivers door open so I could reach in. At this point the woman was frantically pulling at the belt around her neck. We tried to lift her off of the pressure on her neck but the Jeep rocked every time that we pulled, and we could not lift her up enough to help. Another guy was trying to get into the Jeep, but all of the other doors were jammed. He was yelling, "We have to get her out before this thing catches on fire!" I remember hearing the first guy yell, "I can't hold her any longer," when I reached into my pocket to get my knife. As I yelled, "I'm cutting her loose, don't let her fall," it seemed that all I had to do was touch the belt and it cut with one slice, a pop and she was free.
Maybe I should have just used my knife right away, but all of this happened in less than two minutes and we were desperately trying just to get the pressure off of her neck. At the same time, she was suspended about four feet off of the ground and we needed to get hold of her so she wouldn't drop onto the glass and debris in the car.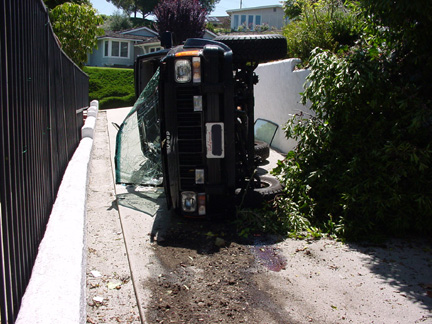 At this point about five people were on the scene and one guy had pulled the back window out and crawled inside to get to her through the back. It is really amazing how little room there is in a car when it is not in an upright position. He got to her and reached around her to turn off the ignition. We were finally able to get her out and sat her down on the curb. It looked like she was only bruised and shaken up, with a small cut on her shin. I remember her saying, "Thank you, thank you. I was choking in there."
We could hear the sirens getting closer. Actually, the sheriffs cars and the fire department got there within five minutes of my daughters 911 call. They checked the lady out and found no serious injuries.
It seems weird but, I'm a girl and not one of the five guys who came to help had a knife but me. It was my mini CQC-7A that I've carried with me ever since it was built – serial # 11.
The paramedics on the scene told all of us that this situation was a perfect testimony to why you should always wear a seat belt. The Jeep was totaled and the entire top was cracked and bent over to one side. The outcome could have been much different if she had been bouncing around inside the Jeep and not held in place.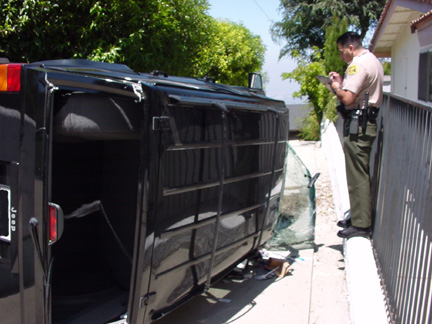 I remember thinking, "Yeah you should always wear your seat belt, and you should always carry a knife."